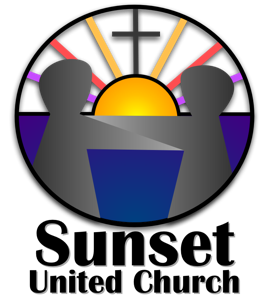 Sunday Worship Service
Worship at Sunset United Church starts at 10:30 a.m. between September and May. June, July and August we worship with two other congregations and the services are at 10:00 a.m. Check the website under Announcements for the worship schedule during this time.
We do our best to be open to where the Spirit leads us, which means providing a wide variety of worship experiences. We worship "in the round", trusting that the circle can always be drawn wider to include whoever wants to join us. Our prayer is that all who are gathered into community for the worship service will know the presence of God, and will be strengthened for their journey, wherever it may take them.
About the Neighbourhood
Sunset is located in SW Regina in Albert Park, a neighbourhood developed in the late 70s, early 80s, and Harbour Landing, a neighbourhood that is currently being developed. The nearby housing is predominantly single families with pockets of apartments and condos. Located in close proximity is the South Leisure Centre, the Optimist Ice Arena, Outdoor Water Park, Sunset Extendicare, Elementary School and Shopping Centre.

Quick Facts:
When can I contact the office?
Regular office hours are 8 a.m. to 1 p.m. (September to June) Tuesday through Friday. Office hours in July are 9 a.m. to 11:30 a.m. and the office will be closed in August.
Who do I contact with questions?
You can send an This email address is being protected from spambots. You need JavaScript enabled to view it. or leave a voice mail message (306-586-3613) and someone will get back to you as soon as possible.
What makes Sunset special?
Those attending Sunset identify our music program, our commitment to being an Affirming Ministry, the strong leadership in our minister and our sense of community. Sunset also is involved in many social outreach activities.
How is Sunset working toward being inclusive?
We have listening devices to assist those with hearing difficulties.
We are printing "large print" bulletins for those with visual difficulties.
We strive to be a nut aware zone and a scent free worship space.
We officially became an Affirming Ministry of the United Church of Canada in the fall of 2007. We continue to work towards living into our understanding of what being "affirming" means for us as a community of believers.
What's available for my child?
On Sunday, we have a play room where parents can take their infants and toddlers, and there is Sunday School for children 3 years and up.
Please visit our Children & Youth page to see what is planned for 2015.